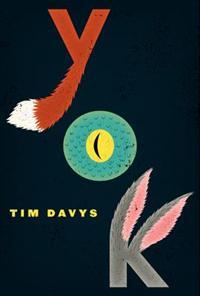 Davys, Tim
| 2012

4
"When you're tired of run-of-the-mill fiction, it's time to read Tim Davys]." --Brad Meltzer, author of The Book of Lies"A world that's violent, tender, hilarious, and downright sickening. Really, what could be better?" --Eric Garcia, author of Anonymous RexTim Davys is one of the most uniquely imaginative novelists writing today--the architect of Mollisan Town, a dark urban nightmare located in an alternate world populated by stuffed animals that lie, cheat, dream, despair, love, and kill. In the final installment in his acclaimed Mollisan Town Quartet, Davys leads us into Yok, a district of dashed hopes and broken dreams--the seediest neighborhood of "a unique place that is both strange and familiar" (Boston Globe)--and employs an engaging cast of damaged animate plush toys to explore provocative questions of life, death, and morality. Yok is nourishment...
Visa mer
Betyg
Fyra historier som försöker överträffa varandra i tragik. Tim Davys är en skicklig författare men nu känns det bra att lämna Mollisan Town.
Betyg
Måne över Lanceheim - Världsklass!