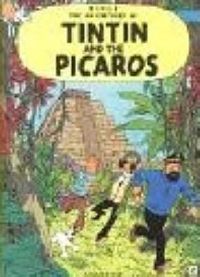 Hergé
| 1976

541
Herge's classic comic book creation Tintin is one of the most iconic characters in children's books. These highly collectible editions of the original 24 adventures will delight Tintin fans old and new. Perfect for lovers of graphic novels, mysteries and historical adventures.The world's most famous travelling reporter gets caught up in a revolutionary adventure. Bianca Castafiore has been imprisoned by General Tapioca!Also accused of threatening Tapioca's dictatorship, Tintin, Calculus and Haddock jet off to the jungle HQ of the revolutionaries, and hatch a plot surrounding the upcoming carnival and Haddock's sudden and mysterious disgust for whiskey ...The Adventures of Tintin are among the best books for readers aged 8 and up.Herge (Georges Remi) was born in Brussels in 1907. Over the course of 54 years he completed over 20 titles in The Adventures of Tintin series, which...
Visa mer
Betyg
Det sista äventyret med Tintin, Milou, Haddock, Kalkyl och DuPontarna och han avslutar verkligen serien i topp. Många underhållande karaktärer som dyker upp. Bianca Castafiore får mig som vanligt att storskratta trots att hon enbart har en liten gästroll, Salvador Svensson, general Alacazar och så en ny karaktär, Alcazars fru, en första klassens drake som jag önskade få ser mer av. Spänning, humor och härliga karaktärer. Jag kan varmt rekommendera det här sista avsnittet!
Toppbetyg!
Betyg
Efter lågvattenmärket "Plan 714..." avslutar Hergé Tintinserien på ett värdigt sätt. Helt OK äventyr denna gång.