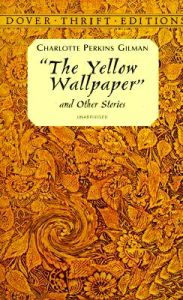 Gilman, Charlotte Perkins
| 1981

145
Best known for the 1892 title story of this collection, a harrowing tale of a woman's descent into madness, Charlotte Perkins Gilman wrote more than 200 other short stories. Seven of her finest are reprinted here. Written from a feminist perspective, often focusing on the inferior status accorded to women by society, the tales include "Turned," an ironic story with a startling twist, in which a husband seduces and impregnates a naive servant; "Cottagette," concerning the romance of a young artist and a man who's apparently too good to be true; "Mr. Peebles' Heart," a liberating tale of a fiftyish shopkeeper whose sister-in-law, a doctor, persuades him to take a solo trip to Europe, with revivifying results; "The Yellow Wallpaper"; and three other outstanding stories. These charming tales are not only highly readable and full of humor and invention, but also offer ample food for thought about...
Visa mer
Betyg
Den här berättelsen är en novell berättad ur dagboksperspektiv. Jaget skriver ner vad hon känner och i dessa anteckningar kan läsaren följa hennes mående och jag tycker om att följa hennes psykiska resa. Den gula tapeten i rummet är central i hennes anteckningar. Hon blir alltmer fäst vid huset och det är som om hon börjar andas med huset. Denna novell tycker jag på ett bra sätt byggs upp och jag tycker att hennes vändning är trovärdig. Den är bra beskriven. Ser jag från hennes håll, i hennes anteckningar, är allt som händer normalt. Ser jag istället utifrån ser jag tydligt hennes väg till bättre mående fysiskt, men mycket sämre psykiskt. En bra skildring av ett rejält sammanbrott.

This is a short story told via diary notes. I can follow her behaviour and well being through her notes and there see her development to mental illness. The yellow wallpaper is central in her notes. I like that everything that happens is normal from her point of view but from outside it is clear that she is on her way to really bad mental state.
Betyg
Läste den på svenska. Riktigt bra novell. Intressant handling och riktigt välskriven.