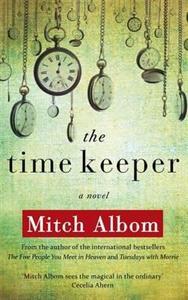 Albom, Mitch
| 2012

5
In this stunning new novel, the inventor of the world's first clock is punished for trying to measure time. He is banished to a cave for centuries and forced to listen to the voices of all who come after him seeking more years for themselves. At last, with his soul nearly broken, Father Time is granted his freedom, along with a mission: a chance to redeem himself by teaching two earthly people the true meaning of time. e returns to our world - now dominated by the obsession with time he so innocently began - and commences a journey with two unlikely partners: one a teenage girl who is about to give up on life, the other a wealthy old businessman who wants to live forever. To save himself, he must save them both. And stop the world to do so. Gripping, simply told and filled with deep human truth, this unforgettable story will inspire readers everywhere to reconsider their own notions of time,...
Visa mer
Betyg
.
Läsvärd. Absolut. Men inte i närheten av hans tidigare böcker.
Carpe diem budskapet är tydligt men det blir lite för mycket hokus pokus för min smak.