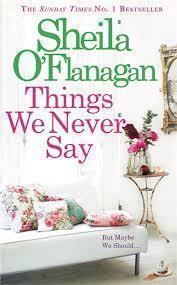 O'Flanagan, Sheila
| 2013

4
Sheila O'Flanagan, bestselling author of ALL FOR YOU and BETTER TOGETHER, tells a fabulous story of a family's world turned upside-down when old secrets comes to light
Visa mer
Betyg
I didn't expect to like this book as much as I did. I loved the way Sheila wrote and will make sure to read more of her books in the future. What amazed me the most was the lack of boring chapters, this book was good all the way through.

It was hard not to fall in love with characters like Pete and Ryan and even harder not to hate Cobey and the nuns that abused Dilly.

Even though Ellen (Abbey's mother) annoyed me at times I found it both inspiring and heartbreaking that she decided to do what made her happy, which was to stay with the nuns.

Abbey will from now on be one of my favorite female characters, she choose to follow her heart no matter what everyone else wanted and did what she thought was the right thing to do.

This is a book that everyone that loves chick-lit stories should read!