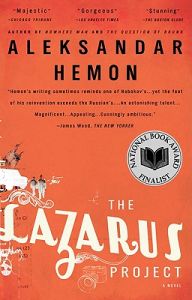 Hemon, Aleksandar
| 2008

15
The only novel from MacArthur Genius Award winner, Aleksandar Hemon -- the National Book Critics Circle Award winning The Lazarus Project. On March 2, 1908, nineteen-year-old Lazarus Averbuch, an Eastern European Jewish immigrant, was shot to death on the doorstep of the Chicago chief of police and cast as a would-be anarchist assassin. A century later, a young Eastern European writer in Chicago named Brik becomes obsessed with Lazarus's story. Brik enlists his friend Rora-a war photographer from Sarajevo-to join him in retracing Averbuch's path. Through a history of pogroms and poverty, and a prism of a present-day landscape of cheap mafiosi and even cheaper prostitutes, the stories of Averbuch and Brik become inextricably intertwined, creating a truly original, provocative, and entertaining novel that confirms Aleksandar Hemon, often compared to Vladimir Nabokov, as...
Visa mer
Betyg
Lovande till en början, men tappar snart fart. Trasslig och onödigt krånglig, och tyvärr, platt och tråkig. När jag läst klart kommer jag inte ihåg och förstår inte vad den handlade om.
Betyg
En intressant historia som man fastnar i snabbt.