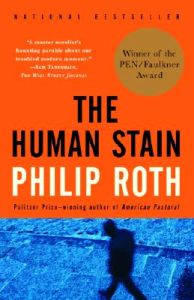 Roth, Philip
| 2000

44
It is 1998, the year in which America is whipped into a frenzy of prurience by the impeachment of a president, and in a small New England town, an aging classics professor, Coleman Silk, is forced to retire when his colleagues decree that he is a racist. The charge is a lie, but the real truth about Silk would have astonished even his most virulent accuser. Coleman Silk has a secret, one which has been kept for fifty years from his wife, his four children, his colleagues, and his friends, including the writer Nathan Zuckerman. It is Zuckerman who stumbles upon Silk's secret and sets out to reconstruct the unknown biography of this eminent, upright man, esteemed as an educator for nearly all his life, and to understand how this ingeniously contrived life came unraveled. And to understand also how Silk's astonishing private history is, in the words of The Wall Street Journal, "magnificently"...
Visa mer
Betyg
Slutscenen var minnesvärd och ganska mäktig faktiskt. Men generellt tycker jag den var alldeles för lång och pladdrig och kvinnoporträtten rätt kassa. Men slutet var starkt!
Betyg
De första 3 sidor var så där, sedan hamnar bara mitt i Colemans liv. Det var länge sedan jag läste en så bra bok som kan jämföras med mina älskade klassiker, kunde inte lägga ner den utan fick läsa den nästan på en gång. En modern klassiker helt enkelt.