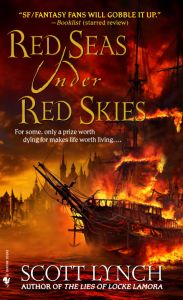 Lynch, Scott
| 2007

95
In his highly acclaimed debut, The Lies of Locke Lamora, Scott Lynch took us on an adrenaline-fueled adventure with a band of daring thieves led by con artist extraordinaire Locke Lamora. Now Lynch brings back his outrageous hero for a caper so death-defying, nothing short of a miracle will pull it off. After a brutal battle with the underworld that nearly destroyed him, Locke and his trusted sidekick, Jean, fled the island city of their birth and landed on the exotic shores of Tal Verrar to nurse their wounds. But even at this westernmost edge of civilization, they can't rest for long--and are soon back to what they do best: stealing from the undeserving rich and pocketing the proceeds for themselves. This time, however, they have targeted the grandest prize of all: the Sinspire, the most exclusive and heavily guarded gambling house in the world. Its nine floors attract...
Visa mer
Betyg
Inte alls lika bra som föregångaren. Jag är besviken och fick kämpa mig igenom den.
Betyg
Äsch, om man nu bara råkar gilla de två gentlemannatjuvarna. Då har man helt enkelt överseende med att det är lite förutsägbart, att den röda tråden är ytterst svag och att karaktärerna inte utvecklats. Locke och Jean är trevligt sällskap även i denna bok.