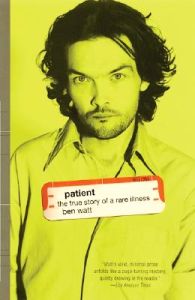 Watt, Ben
| 1998

42
In the summer of 1992, on the eve of an American tour, Ben Watt, one half of the Billboard-topping pop duo Everything But The Girl, was taken to a London hospital complaining of chest pain. He didn?t leave for two and a half months. Watt had developed a rare life-threatening disease that initially baffled doctors. By the time he was allowed home, his ravaged body was forty-six pounds lighter and he was missing most of his small intestine. Watt injects pathos and humor into his medical nightmare, writing about his childhood, reflecting on his family and on his shared life with band member and partner Tracey Thorn. The result is a provocative and affecting memoir about life, illness, and survival. ?Watt?s vivid, minimal prose unfolds like a page-turning mystery, quietly drawing in the reader.? ?Los Angeles Times ?A nearly flawless telling of his unexpected and drawn-out battle...
Visa mer
Betyg
https://deckarbibblon.com/2017/05/30/patient/
Betyg
Mkt gripande om en ung mans kamp mot en livshotande sjukdom. Bra skrivet/lättläst men sorglig.