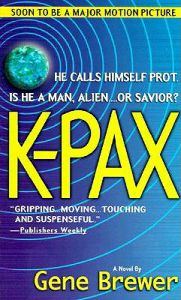 Brewer, Gene
| 1996

44
Psychiatrist Gene Brewer doesn't have a diagnosis for the mysterious new patient who calls himself "prot" (rhymes with goat). But this strange and likeable man cannot be--as he claims--from the planet K-PAX. Or can he? Prot knows facts about space that are confounding the experts. He is soon revealing Dr. Brewer's own deepest pains and most sublime longings. And his tales of K-PAX have other patients competing to go along with him when he heads "home." Now the doctor is racing the clock to find prot's true identity before he losses a man whose "madness" might just save them all. . . Published in a dozens countries with movie rights sold to the producer of "Field of Dreams," "K-PAX "has touched the hearts and expanded the horizons of readers around the world. It promises to join Robert Heinlein's classic "Stranger in a Strange Land" as a moving, thought-provoking masterpiece of modern-day...
Visa mer
Betyg
Enligt mig ett mycket intressant tankeexperiment. Svår att lägga ifrån sig.
Betyg
Helt jävla störtskön är den här boken! Är killen utomjording eller är han psykotisk? Är den här boken verklighetsbaserad eller är den påhittad? Kunde verkligen inte släppa den. Inte äta. Inte sova. Måste bara få veta hur det slutar! En av mina absolut bästa läsupplevelser!