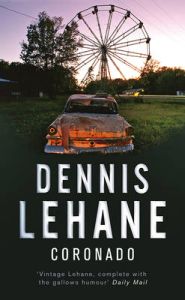 Lehane, Dennis
| 2006

38
Though best known for his hugely successful novels such as Mystic River and Shutter Island, Dennis Lehane has been publishing his short stories in a wide variety of publications for years. "Until Gwen" was published in the Atlantic Monthly in June, 2005, and has now been adapted into the play Coronado which opened in Manhattan in November, 2005. "Running Out of Dog" was featured in the anthologies Best American Mystery Stories 2005, as well as Best American Mystery Stories of the Century. This collection compiles the best of Lehane's previously published short stories, as well as one completely new tale. Full of the same riveting storytelling that has made his novels so popular, as well as some more literary material, this collection of Dennis Lehane's short stories is sure to satisfy the author's large fanbase. "A brilliant, insightful and intriguing literary voyage." BOSTON...
Visa mer
Betyg
Lite blandad kompott, där det är bra är det dock genialt!
Betyg
så jävla skevt. älskar asfalten som stryks över gatan som glasyr. och until gwen. det enda jag inte diggade var "titelspåret" (vad sjutton det nu heter på litteraturspråk?! maila mig!) men det gör ingenting. lehane är ett jävla geni.