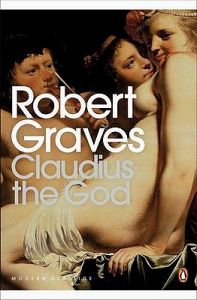 Graves, Robert
| 1973

31
Continuing the saga begun in I, Claudius, Robert Graves's Claudius the God is a compelling fictional autobiography of the Roman emperor, published with an introduction by Barry Unsworth in Penguin Modern Classics.Claudius has survived the murderous intrigues of his predecessors to become, reluctantly, Emperor of Rome. Here he recounts his surprisingly successful reign: how he cultivates the loyalty of the army and the common people to repair the damage caused by Caligula; his relations with the Jewish King Herod Agrippa; and his invasion of Britain. But the growing paranoia of absolute power and the infidelity of his promiscuous young wife Messalina mean that his good fortune will not last forever. In this second part of Robert Graves's fictionalized autobiography, Claudius - wry, rueful, always inquisitive - brings to life some of the most scandalous and violent times in history.If...
Visa mer
Betyg
Har boken på svenska (2 delar)
Betyg
Fantastiska böcker om Romarriket och romartiden med et fantastiskt persongalleri m.m.