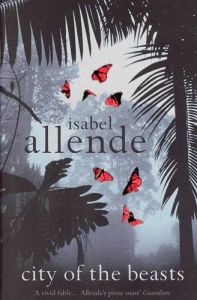 Allende, Isabel
| 2002

49
Fifteen-year-old Alexander Cold has the chance to take the trip of a lifetime. With his mother in hospital, too ill to look after him, Alex is sent out to his grandmother Kate - a fearless reporter with blue eyes 'as sharp as daggers' points'. Kate is about to embark on an expedition to the dangerous, remote world of the Amazon rainforest, but rather than change her plans, she simply takes Alex along with her. They set off with their team - including a local guide and his daughter Nadia, with her wild, curly hair and skin the colour of honey - in search of a fabled headhunting tribe and a legendary, marauding creature known to locals only as 'the Beast', only to find out much, much more about the mysteries of the jungle and its inhabitants. In a novel rich in adventure, magic and spirit, internationally-celebrated novelist Isabel Allende takes readers of all ages on a voyage of...
Visa mer
Betyg
First in a trilogy of adventures world wide. This one is in the rain forest of South America. Good fun and not a small amount of mysticism and environmental concern.
Betyg
Den här boken är en av de bästa jag nånsin läst. Den är spännande, spirituell och utspelas i en exotisk miljö som fängslar en totalt. Den är helt magisk och jag lär definitivt läsa den igen en fjärde gång och sen igen osv.