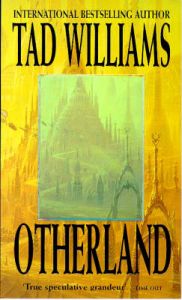 Williams, Tad
| 1996

63
First book in New York Times-bestselling author Tad Williams's cyberpunk fantasy series - "Tad Williams is the brightest and best of the fantasists." ―Neil Gaiman, author of American Gods Otherland. Surrounded by secrecy, it is home to the wildest dreams and darkest nightmares. Incredible amounts of money have been lavished on it. The best minds of two generations have labored to build it. And somehow, bit by bit, it is claiming the Earth's most valuable resource--its children. Only a few have become aware of the danger. Fewer still are willing or able to take up the challenge of this perilous and seductive realm. But every age has its heroes, and unusual times call for unusual champions: Renie Sulaweyo, a teacher and the backbone of her family, proud of her African heritage, has fought all her life simply to get by. She has never wanted to be a hero....
Visa mer
Betyg
Bra SF. Nyskapande, spännande, rörande och engagerande. Kanske skulle verket tjäna på att kortas ned något? Han blir, som så ofta, lite väl ordrik.
Betyg
Den totala läsupplevelsen.