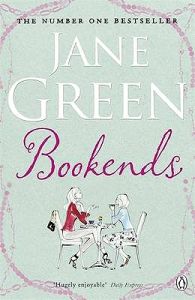 Green, Jane
| 2000

87
Jane Green, author of the best-sellers Second Chance and Straight Talking, examines friendships and their limits in her highly entertaining novel Bookends. On the shelf, but still best friends . . . Cath is scatty, messy and guarded. While Si is impossibly tidy, bitchy and desperate for a man of his own. They are total opposites - but equally unlucky in love. And they've stuck together through thick and thin. Because that's what best friends do. So when their beautiful friend Portia - the undisputed queen of their group of friends at university - steps back into their lives, after a ten year gap, her reappearance tests both Cath and Si's friendship to the limit. What does Portia want? Will she be a force for good in their lives, or something darker? And will Cath and Si ever get lucky in love? 'Funny and poignant - you'll devour it in one sitting' Cosmopolitan 'Quick,...
Visa mer
Betyg
Den är inte på något sätt dålig, utan den är lätt att fastna i och man sträckläser gärna. Men den är lika lätt att glömma bort och lämnar inga djupare spår.
Betyg
Nej, den här läste jag inte ens ut.