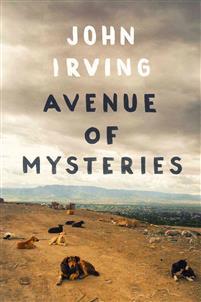 Irving, John
| 2015

7
This book is a rough cut edition. John Irving returns to the themes that established him as one of our most admired and beloved authors in this absorbing novel of fate and memory. In "Avenue of Mysteries," Juan Diego a fourteen-year-old boy, who was born and grew up in Mexico has a thirteen-year-old sister. Her name is Lupe, and she thinks she sees what's coming specifically, her own future and her brother's. Lupe is a mind reader; she doesn't know what everyone is thinking, but she knows what most people are thinking. Regarding what "has" happened, as opposed to what "will, " Lupe is usually right about the past; without your telling her, she knows all the worst things that have happened to you. Lupe doesn't know the future as accurately. But consider what a terrible burden it is, if you believe you know the future especially your own future, or, even worse, the future of someone you...
Visa mer
Betyg
Skruvat, på gränsen till absurt, men inget mer alls.
Betyg
Inte så kul som jag tror den försöker vara.