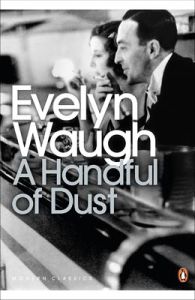 Waugh, Evelyn
| 1977

52
Taking its title from T.S. Eliot's modernist poem The Waste Land, Evelyn Waugh's A Handful of Dust is a chronicle of Britain's decadence and social disintegration between the First and Second World Wars. This Penguin Modern Classics edition is edited with an introduction and notes by Robert Murray Davis. After seven years of marriage, the beautiful Lady Brenda Last is bored with life at Hetton Abbey, the Gothic mansion that is the pride and joy of her husband, Tony. She drifts into an affair with the shallow socialite John Beaver and forsakes Tony for the Belgravia set. Brilliantly combining tragedy, comedy and savage irony, A Handful of Dust captures the irresponsible mood of the 'crazy and sterile generation' between the wars. This breakdown of the Last marriage is a painful, comic re-working of Waugh's own divorce, and a symbol of the disintegration of society. If you...
Visa mer
Betyg
Inte alls i klass med "En förlorad värld", men klart läsvärd ändå. Ett stor minus är en svår förlust som bara nämns som en parantes, vilket borde ha påverkat huvudkaraktärerna mer. Ett stort plus är istället dialogerna, eller vad sägs om det här:

- Jag har hittat en våning, Tony
- Kan du vara snäll att tappa bort den igen kära du.

Eller:

(Till den bedragne maken):
- Jag förstår inte att du kan gå med på en skilsmässa och förlora henne till honom. Du kan väl åtminstone vänta tills hon har hittat en bättre.